Jogorbé has sent us a few products to review. Today we are going to review the products. Read on please. 
The products we are going to review:
-Jorgorbé scrub mask
-Hydrating glowing serum
-Niacinamide Serum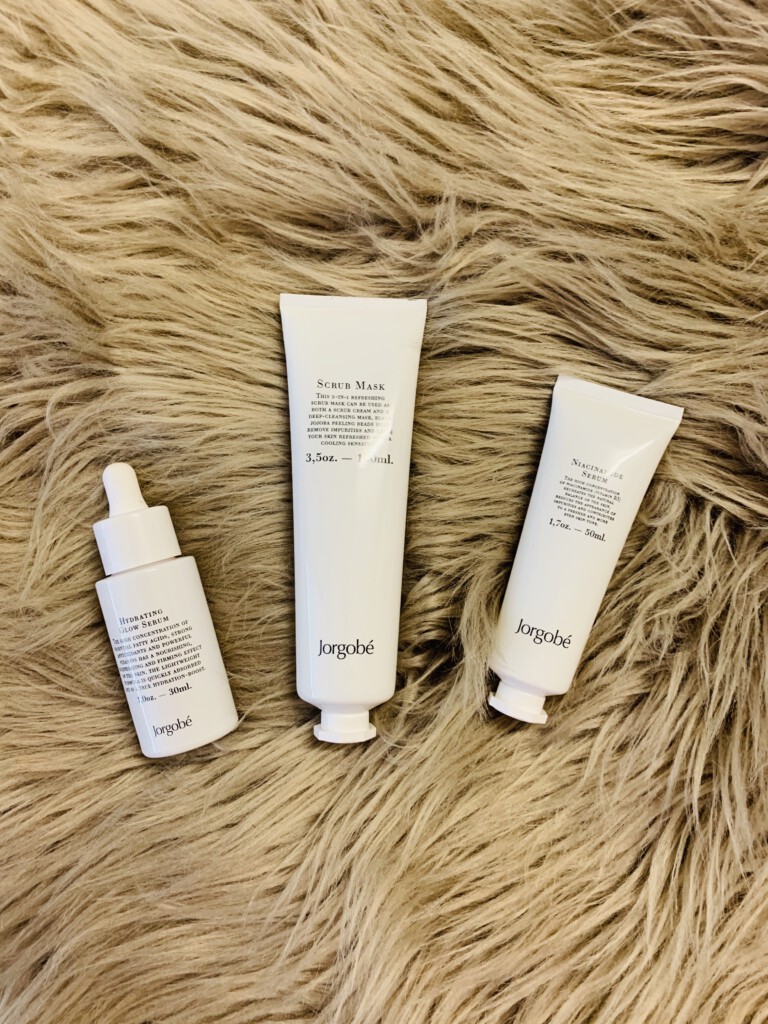 Packaging:
The packages of all the products are white except the one of the scrub mask, that one has black circles on it. Nice packaging.
Reviews:
Jogorbé scrub mask:
Jogorbé scrub mask is a multifunctional mask an exfoliating scrub cream and a deep cleansing face mask in one product. The reader who follow me longer know that I have a oily and a highly sensitive skin. Having a senstive skin makes it difficult to find great skin care products. Well now I am happy I found Jogorbé skin care range. Their skin care range is specially developed for a sensitive skin. What extra made me happy was that the range is vegan. I love vegan products, they generally don't cause skin problems. Like other chemically products do. The products are also fragrance-free, Made in Denmark. Mostly in Europe they produce great products especially with sensitive skin and vegan ranges are great here in Europe. Well I am glad I discovered this range. I am very satisfied with this range.
Great mask and scrub:
Scrub mask was very great. I used it as a scrub and then as a mask on the same day. After scrubbing it's obligatory to wear a mask or else the pores gets open on the face and this results in more pimples on the face. Well having a acne prone skin and red scars makes it very difficult to find a great skin care. You can't wear any scrub on a sensitive skin. This scrub was no problem for my acne skin. After a while I noticed I don't have much pimples anymore. The mask was also great. More adventages of use:
• Glycolic acid exfoliates skin surface, renews skin cells and gives glow.
• Black jojoba beads remove dead skin cells, excess oils and impurities.
• Jojoba oil moisturises and protects skin from drying out.
• Apricot kernel oil softens and absorbs quickly.
• Shea butter softens and nourishes skin.
• The mineral zinc has a cleansing effect to reduce oily and blemished skin.
• Menthol cools and purifies skin – giving a refreshing feeling.
• Echinacea (red coneflower) is a powerful antioxidant with a purifying and balancing effect.
My acne has reduced because of this scrub mask. Because of the acne my skin lost his glow. This scrub mask let my skin glow very much. The unique formula is based on the very best of nature; black jojoba scrub beads that remove dead skin cells, oils and impurities, and apricot kernel oil and shea butter, which help protect your skin during peeling; leaving your skin clean, soft and refreshed with a cooling sensation. The cooling sensation was very great. I love cool system. With a sensitive skin it's better to wash it with cold water and to feel cold on your skin. Cold products are the best. I love this scrub mask very much. One of the best scrub masks I have ever used.
Hydrating glowing serum:
When you have acne you loose your glow on the face. That's so annoying. Well I am glad I discovered Jorgobé Hydrating Glow Serum. It made my skin alive again. My acne reduced very much. I loved my skin it glowed very much. My skin was very dull before I started to use this serum. Soon after my skin glowed again and didn't look dull anyone.
This serum has a unique nutrient-rich combination of botanical oils. The high concentration of essential fatty acids, strong antioxidants and powerful vitamins has a nourishing, regenerating and firming effect on the skin. The lightweight formula is quickly absorbed and is a true hydration-boost, ideal for dry and dull skin. Avocado oil stimulates the skin's natural production of collagen, extract from sandalwood has a tightening effect and rosehip seed oil has a regenerating effect. Jorgobé Hydrating Glow Serum will remarkably improve the skin's elasticity and protect against premature ageing. Your skin is left with a beautiful, radiant complexion. I loved this glowing serum very much.
Niacinamide Serum:
Another great product for acne is this niacinamide serum. This serum creates a natural balance of the skin. Contains vitamine B3 even outs the skin tone, smoothes the structure of the skin and reduces pigment spots as well as blushing. Extracts from agarikon mushrooms tighten the skin and minimizes pore size, while hyaluronic acid in combination with betaine, which is extracted from sugar beets, protects the skin and works to balance the natural hydration.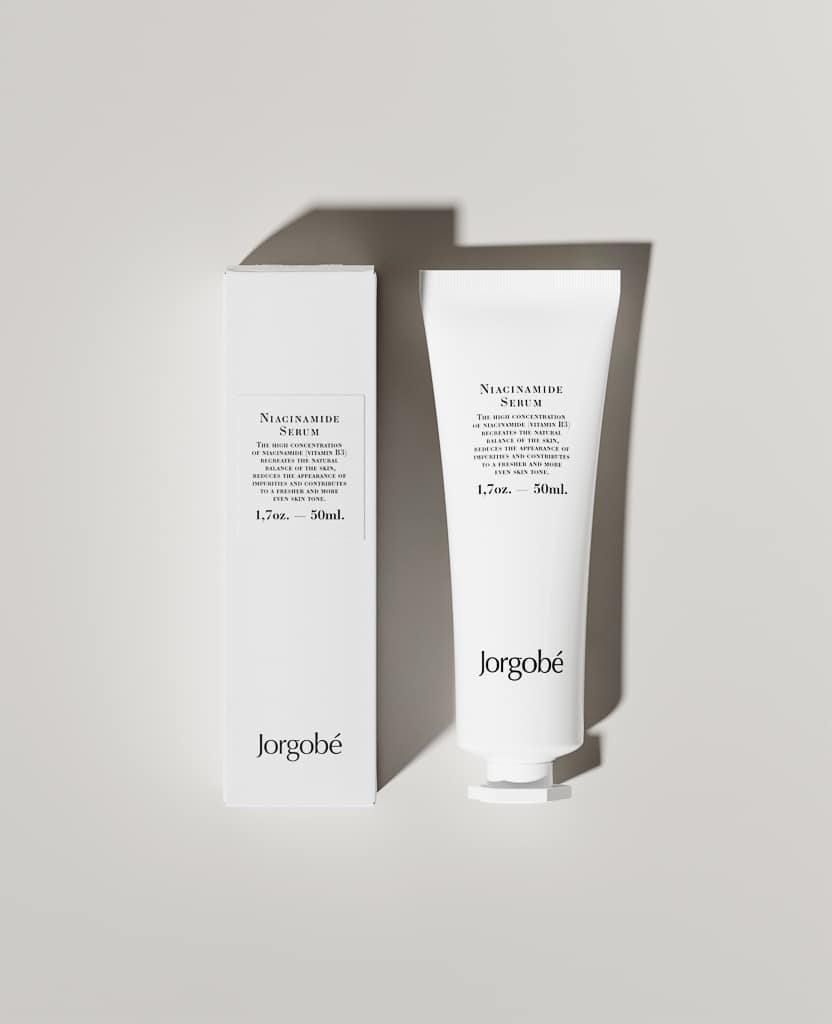 Allantoin has a relieving effect on the skin and provides a soothing sensation. You always wear a serum under a day cream. Which I did. You can also wear it without a day cream only if you don't wear make-up or something on it. Then its okay to wear it seperatly. This serum was soft on the skin. I loved the hyaluronic acid. This reduces my acne on my skin. Loved this serum very much.
Buy this at click on the banner to buy: