Wearing a foundation everyday is absolutly not a healthy thing to do. L'oreal has a solution for that with their new range of tinted moisturizer Skin paradise tinted moisturizer. It contains 70% water. Today we are going to review this mositurizer. Read  further please…
About the moisturizer:
I might sound crazy to you when you I tell you that I wear foundation every day. After a while my skin was a little irritated. Then i heard you can better use e tinted moisturizer. Then Loreal came along with his new invention. Created with a 70% water based formula & enriched with a cocktail of Aloe Vera, Ginger & Witch Hazel. Skin Paradise leaves you with that 'please can I have what she's having' skin glow. Both makeup fanatics and bare skin enthusiasts will fall in love with the lightweight texture that quenches skin with up to 24h hydration and evens out skin tone with a perfecting healthy- looking glow. What's more, with SPF 20 UVA/UVB & antioxidant action, it helps protect against environmental aggressors such as pollution.
Packaging:
Its a nice package. The package is bronze with white.
Texture:
Extra soft.
My opinion:
If I compare this to a foundation this tinted moisturizer is a thousand times better than that. The texture is so soft. Love it very much. I didn't feel the moisturizer on my face. And that is a great thing. Wearing a foundation is like wearing a mask. Wearing this moisturizer is like a wearing a soft cream, which you don't feel on the skin. Especially with a sensitive skin I love this solution very much. I also have an oily skin so a moisturizer lasts longer en gives you a natural look. A foundations has a heavy coverage. This one has a medium coverage. It's very recommendable for daily use. I dont'like to put some layers on especiially while walking and gyming. Its absolutlyh not good for my sensitive skin. Well the texture was very great. Loved it very much. It was great for my skin.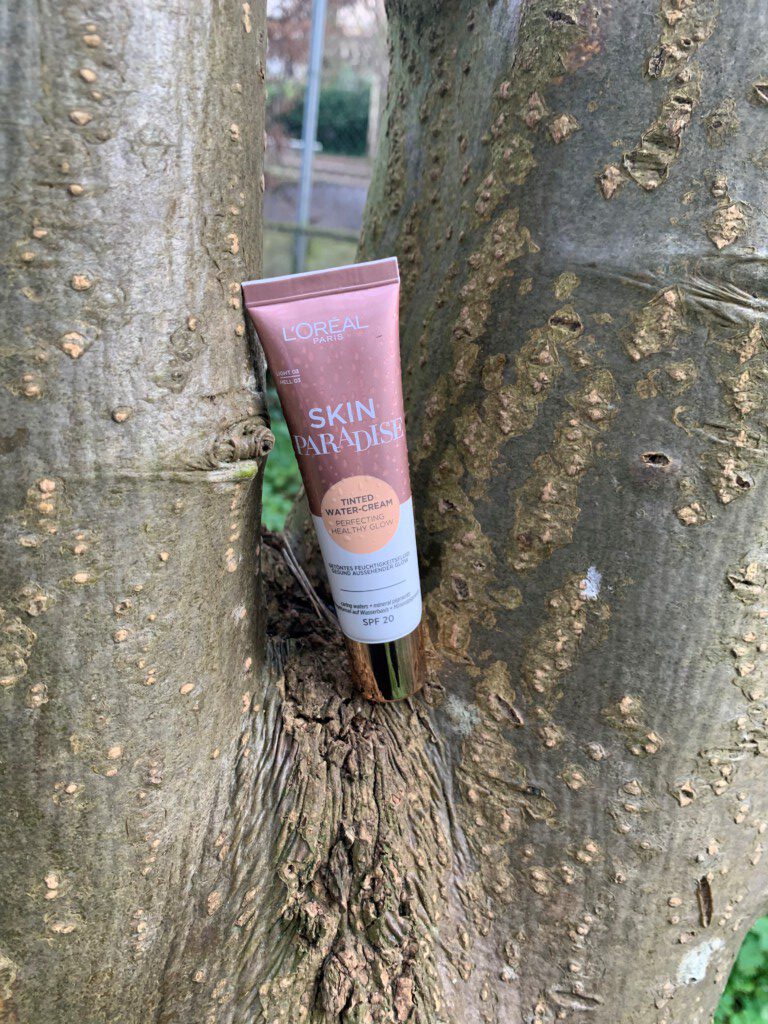 The coverage is between a foundation and a BB cream. Well it was absoluty meant for me. The coverage is great for daily use. I only needed to do my eyebrows and I was finished. It was also timesaving. I didn't have to wear a daycream a foundation on it then a powder. This is an all in one moisturizer. We love it a great product which is also a timesaver.
I have an oily skin wihth acne. This moisturizer was great for that as well. I didnt'need a concealer to clog my pores and acne. It hides with them along. This moisturizer is great on any skin, dry, oily or mixed. It's doen't matter. The result will stay the same and as great as I told you before.
Colors:
It has 9 colors starting with light 01 and ending with deep 03 which is the darkest color in the range. We don't like a pale face so we choose fair 03. It's two shades darker than our own skin. We like it that way. A tinted cream on the face is so nice. I like it very much.
Conclusion:
Wow I love this tinted moisturizer. I dont'need a foundation anwymore. My skin was glowing. I had a smooth look. Very natural look. Definitly recommendable for everyone. Such a great invention by Loreal. I am so happy. Definitly try this moisturizer I am sure you will like it.
Buy this at Superdrug, Boots, Bol.com, hbb24.nl
#collab see disclaimer